Rural people, partners, and community organizations working together to raise awareness
about COVID prevention and vaccine deployment in rural North Carolina.
Who: Leaders from the NC Rural Center, Hometown Strong, North Carolina AHEC, Governor's Office of Public Engagement, and the Foundation for Health Leadership & Innovation (FHLI), are partnering with the NC DHHS Office of Rural Health (ORH) to extend the ORH's reach in disseminating vital resources and messaging to rural communities. 
Where: All training will be done virtually via Zoom meetings and shareable electronic resources (e.g., PDFs, social media, etc.)
What: The partners of the North Carolina Rural Coalition Fighting COVID will provide rural-oriented tools, training, guidance, and messaging to community leaders (e.g., county commissioners, health departments, local officials, faith leaders, business owners, civic organization leaders, etc.) who are visible and trusted in their communities. This support will assist with illness prevention (e.g., masks, social distancing, and washing hands, etc.), contact tracing, and vaccination information (e.g., phased rollout, local contacts, misperceptions, etc.).
The partners will coordinate with NC DHHS — and other experts at the state and federal levels — to provide content expertise and messaging that is specifically targeted to rural communities. The partners will select representatives to participate in coalition activities — and provide needed support and resources — to include:
Educational webinars with subject matter experts
Rural-specific messaging to communities
Regular (weekly) online forums for organizations, county officials, elected officials, community leaders and the public to hear the latest information of activity in the state
Provide tools and resources to overburdened health departments and trusted local leaders so the state can more effectively alleviate the pandemic's health and economic impact on North Carolina's rural communities

 

Provide real-time feedback about what messaging is effective and/or how it can be improved, as well as concerns and questions raised from rural constituents

 

Assist state-level officials in identifying current and emerging rural trends related to COVID-19 preventative measures and vaccine rollout 

February 24th Meeting Materials
February 17th Meeting Materials
February 10th Meeting Materials
February 3rd Webinar Materials
Resilient American Communities
As more communities are deciding to partner with Resilience American Communities, the RAC Team has produced a training series to meet the increasing interest and needs.
Below is the training schedule to introduce your community members to RAC and its processes and tools. To learn more about the training offerings and to register, click the links below. 
Please share this information with others who may be interested.
How State Budgets Can Serve
Community COVID-19 Priorities
We hope you will be able to join this discussion about the future of COVID-19 relief and resiliency funding, the alignment of community priorities with policy and funding opportunities, and tools to monitor funding streams and priorities. Register today at bit.ly/covidresiliency-32 or download the PDF below for more information.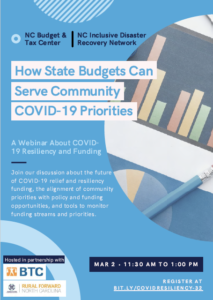 Vaccination Clinic In a Box
The Oregon Health & Science University Center for Primary Care Research and Innovation recently released the "COVID-19 Vaccination Clinic Implementation Toolkit" for decision-makers and implementers of vaccine clinics. Institutions, including counties, need to make decisions about how to organize COVID-19 vaccines in their communities. The goal was to create a "vaccination clinic in a box" that could be replicated in, and tailored to, many types of settings. Download the PDF by clicking below.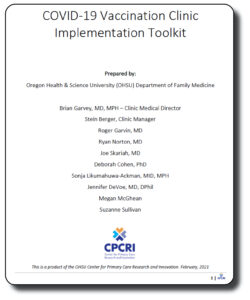 Community Vaccine Survey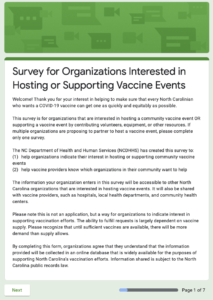 Are you interested in hosting a community vaccine event OR supporting a vaccine event by contributing volunteers, equipment, or other resources? Please share this link and take NC DHHS' recently developed Survey for Organizations Interested in Hosting or Supporting Vaccine Events.  If multiple organizations are proposing to partner to host a vaccine event, please complete only one survey.
---
Food Resources
Vaccine-related Resources
COVID-19 Vaccine Help Center – 888-675-4567 -Monday through Friday from 7 a.m. until 7 p.m., and on Saturday and Sunday from 8 a.m. until 4 p.m. 
NC Inclusive Disaster Recovery Network – Disaster resources for organizations serving historically under-resourced and marginalized communities.