2021 National Rural Health Day
Food Resources
Vaccine-related Resources
COVID-19 Vaccine Help Center – 888-675-4567 -Monday through Friday from 7 a.m. until 7 p.m., and on Saturday and Sunday from 8 a.m. until 4 p.m. 
NC Inclusive Disaster Recovery Network – Disaster resources for organizations serving historically under-resourced and marginalized communities.
Important Message to Share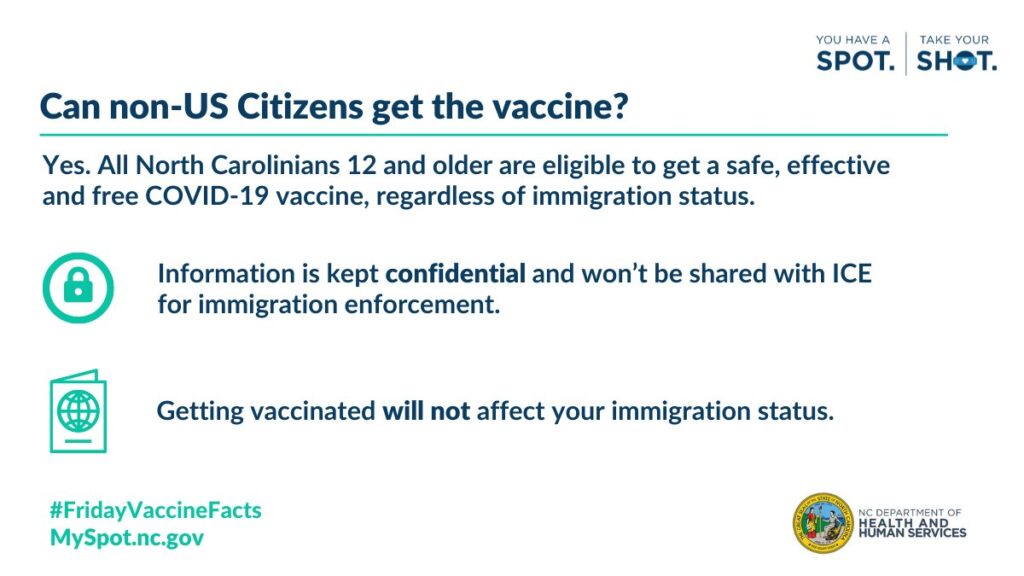 TeenVaxFacts.com Launches to Inform North Carolina Teens About COVID-19 Vaccines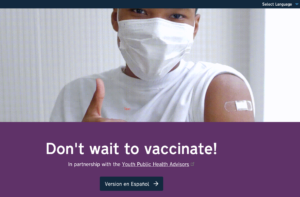 North Carolina's Department of Health and Human Services has launched TeenVaxFacts.com – a website dedicated to providing teens with the information, tools and resources they need to educate themselves, their friends and family members about the benefits of COVID-19 vaccines.
With access to materials such as a COVID-19 vaccine discussion guide, vaccine locations and informative videos, this site will serve as a place for teens to get the facts about COVID-19.
Please share TeenVaxFacts.com widely among your networks.
Free At-Home COVID Vaccinations for People with Limited Mobility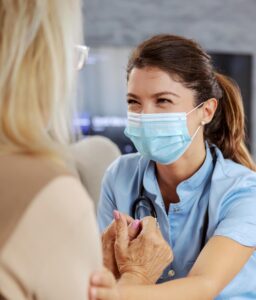 In its effort to provide all citizens with access to safe and effective COVID-19 vaccines, NC DHHS is partnering with Piedmont Triad Regional Council Area Agency on Aging to provide free COVID-19 vaccinations to people with limited mobility who cannot leave their home.
Caregivers, providers, or individuals may access the program by calling the At-Home Vaccination Hotline at 866-303-0026 at any time or by visiting www.ptrc.org/covid and filling out the registration form.
Within three business days, a PTRC Vaccination Specialist will connect with the individual to schedule their at-home vaccination.  
Help All Families Collect the American Rescue Plan Child Tex Credit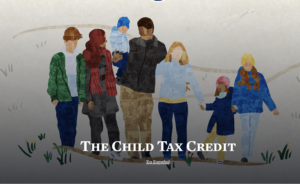 The American Rescue Plan included a $3,000-$3,600 tax credit for families with children. Most families will receive this credit automatically. 
However, there are an estimated 4 to 8 million children whose families will not receive these payments automatically. 
To receive payment, families who did not file tax returns or who did not sign up to receive stimulus checks will need to register online with the IRS Non-filer Sign-up Tool at childtaxcredit.gov 
Please help us spread the word about registration using the White House's communication's toolkit, (available in English and Spanish) and by sharing or printing the "Help is Here" flyer, both on the website at childtaxcredit.gov 
Also, please share #ChildTaxCredit in your social media messaging!
New Notice of Funding Opportunity

The Office of Minority Health (OMH) at the U.S. Department of Health and Human Services has released the following funding opportunity announcement for which applications are now being accepted.
Announcement Number: MP-CPI-21-002
Opportunity Title: Accessing Social Determinants of Health Data through Local Data Intermediaries Initiative
Award Amount: up to $250,000
Estimated Total: $500,000
Application Due Date: July 28, 2021, 6:00 PM ET
This notice solicits applications for projects for the Accessing Social Determinants of Health through Local Data Intermediaries Initiative. Learn more about this FOA and how to apply.
A technical assistance webinar for potential applicants will be held June 2, 2021, from 3:00-4:00 PM ET. Register for the technical assistance webinar.
Community Vaccine Survey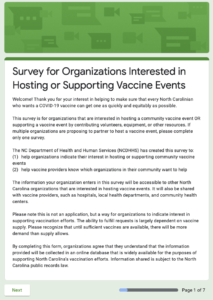 Are you interested in hosting a community vaccine event OR supporting a vaccine event by contributing volunteers, equipment, or other resources? Please share this link and take NC DHHS' recently developed Survey for Organizations Interested in Hosting or Supporting Vaccine Events.  If multiple organizations are proposing to partner to host a vaccine event, please complete only one survey.
Healthier Together Seeks Personnel to Help Marginalized Communities
In support of its Healthier Together initiative, NC DHHS and the NC Counts Coalition are hiring for the following positions:
Healthier Together Senior Director
Regional Health Equity Field Director (six positions available statewide)
Regional Health Equity Operations Manager (six positions available statewide)
For more information and to submit your resume, please contact info@foundationhli.org and FHLI will forward your information to the appropriate NCDHHS department.
NC DHHS Releases Plan for Vaccinating North Carolina Farmworkers

With farmworkers now eligible for the vaccine, NC DHHS has anticipated lots of questions from farmers, workers, and other partners. The following materials detail the state plan for farmworker vaccination and include:
ImpactNC 2021 Grant Funding Available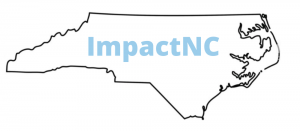 ImpactNC 2021 uses equity-conscious thinking to fund organizations in Tier 1 North Carolina counties that promote social justice philanthropy and provide direct relief to those most affected by the COVID-19 pandemic.
FOCUS AREAS
This year, ImpactNC seeks proposals from nonprofit organizations serving Tier 1 counties in the state of North Carolina. Preference will be given to organizations that address the general well-being of these communities especially in regards to increasing access to the following categories:
Food
Healthcare (i.e., mental, dental, physical)
Housing
Vaccination Clinic In a Box
The Oregon Health & Science University Center for Primary Care Research and Innovation recently released the "COVID-19 Vaccination Clinic Implementation Toolkit" for decision-makers and implementers of vaccine clinics. Institutions, including counties, need to make decisions about how to organize COVID-19 vaccines in their communities. The goal was to create a "vaccination clinic in a box" that could be replicated in, and tailored to, many types of settings. Download the PDF by clicking below.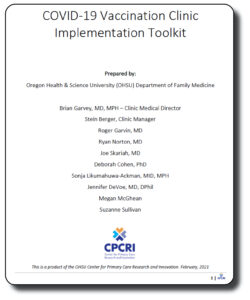 Leaders from the NC Rural Center, Hometown Strong, North Carolina AHEC, Governor's Office of Public Engagement, and the Foundation for Health Leadership & Innovation (FHLI), are partnering with the NC DHHS Office of Rural Health (ORH) to extend the ORH's reach in disseminating vital resources and messaging to rural communities.
All training will be done virtually via Zoom meetings and shareable electronic resources (e.g., PDFs, social media, etc.)
The partners of the North Carolina Rural Coalition Fighting COVID will provide rural-oriented tools, training, guidance, and messaging to community leaders (e.g., county commissioners, health departments, local officials, faith leaders, business owners, civic organization leaders, etc.) who are visible and trusted in their communities. This support will assist with illness prevention (e.g., masks, social distancing, and washing hands, etc.), contact tracing, and vaccination information (e.g., phased rollout, local contacts, misperceptions, etc.).
The partners will coordinate with NC DHHS — and other experts at the state and federal levels — to provide content expertise and messaging that is specifically targeted to rural communities. The partners will select representatives to participate in coalition activities — and provide needed support and resources — to include:
Educational webinars with subject matter experts
Rural-specific messaging to communities
Regular (weekly) online forums for organizations, county officials, elected officials, community leaders and the public to hear the latest information of activity in the state
Provide tools and resources to overburdened health departments and trusted local leaders so the state can more effectively alleviate the pandemic's health and economic impact on North Carolina's rural communities
Provide real-time feedback about what messaging is effective and/or how it can be improved, as well as concerns and questions raised from rural constituents
Assist state-level officials in identifying current and emerging rural trends related to COVID-19 preventative measures and vaccine rollout