Celebrating the Life of Jim Bernstein
Since 2006, the Foundation for Health Leadership & Innovation has gathered with public health leaders from across North Carolina each year to celebrate the life of our founder, Jim Bernstein. Jim left a lasting legacy on our state that thrives through FHLI and so many of our partner organizations and programs.
As we look forward to this year's event on Oct. 4, we wanted to take a moment to look back on how FHLI was founded on Jim's vision of helping the people of North Carolina, especially in our rural areas.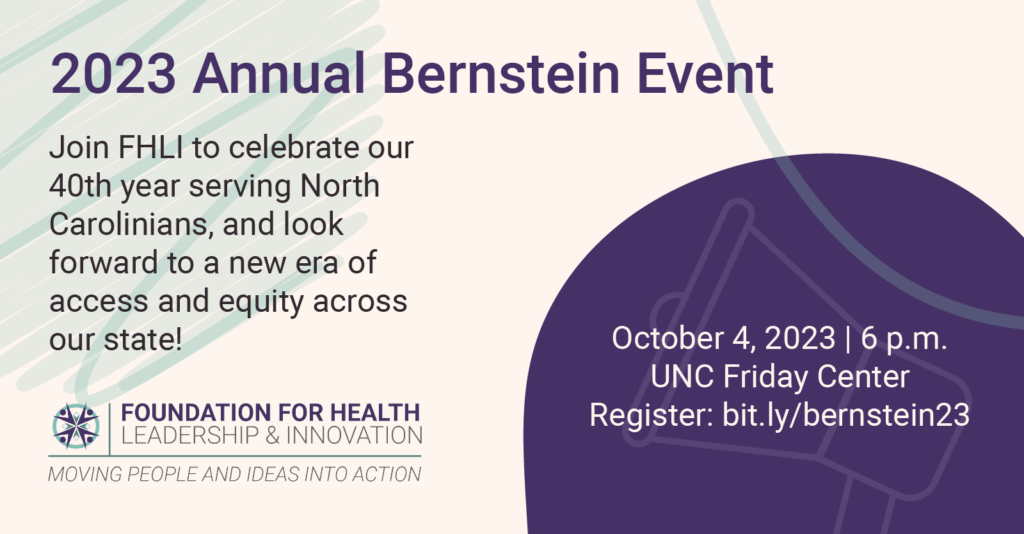 In 1973, Jim Bernstein established North Carolina's Office of Rural Health under the Department of Health and Human Services, the first Office of Rural Health in the country. He worked closely with a hand-picked team of individuals to focus on the needs of rural and underserved communities in the state. This work was fundamental in the creation of local county health centers across our state.
He later established the North Carolina Foundation for Alternative Health Programs in order to develop and implement innovative programs to help increase access to quality health care for all North Carolinians. The foundation was established in 1982 with the help of then-Governor Jim Hunt and the UNC School of Medicine.
By 1998, the Foundation launches Carolina ACCESS to help communities create systems for providing access to comprehensive care for low-income, uninsured residents. It was successfully implemented in 12 counties, and the General Assembly approved implementing it statewide. This led to the creation of Community Care of North Carolina.
The Foundation's name was then changed to the North Carolina Foundation for Advanced Health Programs and was later changed to what we know today as the Foundation for Health Leadership and Innovation (2015).
And in 2006, we launched the Jim Bernstein Health Leadership Fellows Program with the first two Fellows and the Jim & Sue Bernstein Community Health Center Scholarship Program. The Fellows program, which was one of Jim's ideas, has graduated 49 Fellows who continue to do innovative work and research in North Carolina's rural communities. Since being established the scholarship program has awarded more than $130,000 to scholars from rural community health centers. 
Although Jim passed away in 2005, we are proud to continue his work today and into the future.
Learn more about Jim and his work as told by his friends and colleagues on our YouTube channel.
Don't miss your chance to see all of the great work that is still being done as part of Jim Bernstein's Legacy. Join us Oct. 4 at the Friday Center in Chapel Hill for the 2023 Annual Bernstein Event.