Carla S. Obiol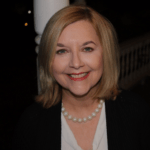 Acting President & CEO
Leadership
Carla joined FHLI as Vice President of Programs in December 2018 to guide and support the work of existing programs, as well as develop new program opportunities and partnerships. She was named Acting President and CEO of the organization in March 2020.
Prior to joining FHLI, Carla served as director of Care4Carolina from February 2017 to December 2018. Care4Carolina is a statewide coalition with the mission of closing the health insurance gap.
An NC Department of Insurance veteran of 32 years, Carla managed the state Seniors' Health Insurance Information Program (SHIIP) from 1992 to 2010, before serving as Senior Deputy Commissioner of the Consumer Assistance Group. Carla is a dedicated supporter and advocate for the senior citizens and disabled persons of our state and has served on numerous boards and advisory committees related to these groups. She is currently a Board member of Care Share Health Alliance. Carla holds a bachelor's degree in Business Administration from East Carolina University. She lives in Fuquay Varina with her husband, John Obiol, and two daughters, Alex and Mary.