Oral Health Day 2023
Every year, one of our programs, the North Carolina Oral Health Collaborative (NCOHC), hosts Oral Health Day, an event focused on access and equity in the field of dentistry. We look forward to this event that brings advocates from across the state together to learn about important topics in oral health and actionable steps to achieve system-level changes.
This year's event theme is: "Challenges and Opportunities for the Dental Team."
While Oral Health Day is a dentistry-focused event, the free event is open to everyone, regardless of their background. More information and registration details can be found at oralhealthnc.org/ohday2023. We hope you can join NCOHC for this event!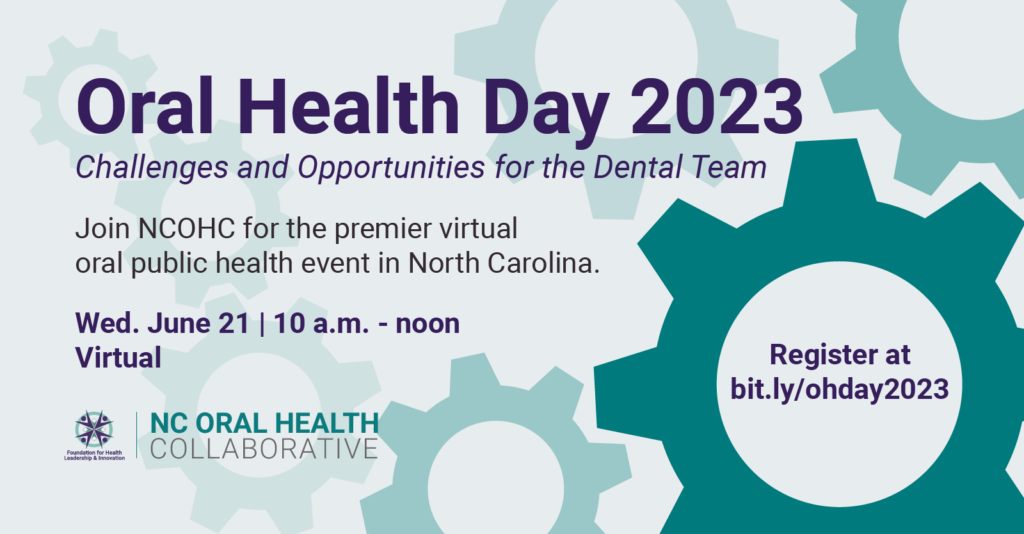 NCOHC is thrilled to welcome Kathy Colville, PhD, MSW, MSPH as its keynote speaker for this year's event. Colville is the president and CEO of the North Carolina Institute of Medicine (NCIOM), and she previously led the Cone Health Department of Healthy Communities in Greensboro where she worked to connect clinical services and community assets to promote equity and access to the healthcare and living conditions that foster long and healthy lives.
NCIOM is an independent agency chartered by the NC General Assembly that works collaboratively with stakeholders from across the state to identify and build consensus around actionable solutions to the health challenges facing North Carolina. Since 2022, NCIOM and NCOHC have been working together on an initiative to map out what the future of oral health Medicaid services could look like in North Carolina.
The Oral Health Transformation Initiative includes a multi-sector task force that is currently evaluating, assessing, and developing recommendations for potential options regarding oral health system transformation. The task force includes some of the brightest stakeholders, policymakers, academics, and other influencers in the oral health and healthcare space.
Oral Health Day 2023 will also include a panel discussion on the state of North Carolina's dental workforce and opportunities for improvement. The panel will be moderated by NC Area Health Education Centers (AHEC) Director Hugh Tilson, JD, MPH, and will include:
Rhonda Stephens, DDS, MPH, acting section chief and dental public health residency director at the North Carolina Department of Health and Human Services, Oral Health Section
Raydiance Swanston, MPH, health program manager for the Mecklenburg County Government
Betsy White, RDH, BS, FSCDH, chief operating officer at Access Dental Care
Stephanie J. Wroten, BSN, MS, LNC, chief operating officer at Roanoke Chowan Community Health Center
To learn more or to register, visit NCOHC's Oral Health Day website.