Meet NCCARE360's New Director: Ayana Simon
Ayana Simon's passion is helping others, and that is something she learned at a young age while watching her parents work in and navigate the healthcare system.
"I've always worked in spaces where what I did was what I called 'heart work,' what I did was not just the task but also who it influenced," she said. "What motivates me and keeps me going is work that has a positive impact on an individual, community or system."
We are excited to welcome Ayana as the Director of NCCARE360.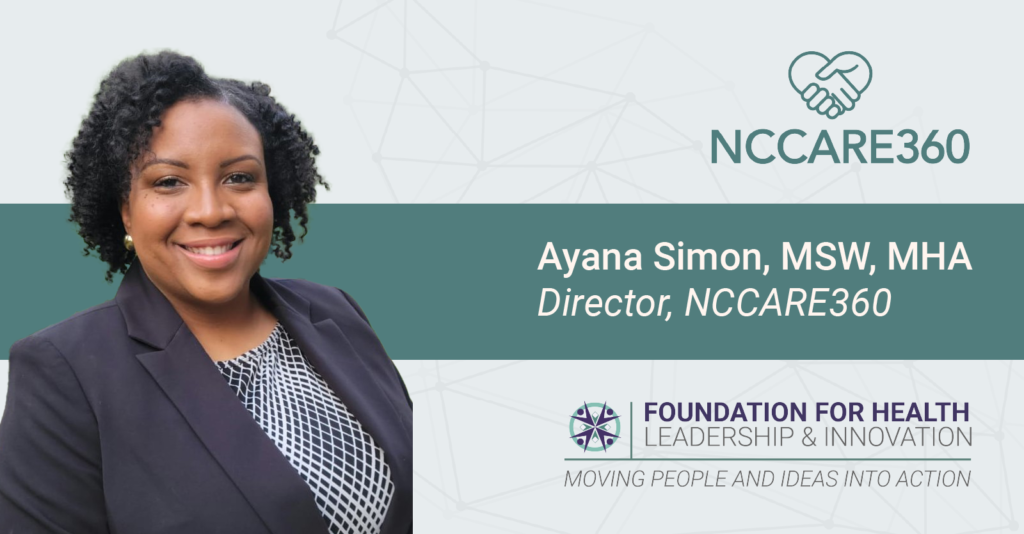 Although she began as the NCCARE360 Director on June 1, Ayana is not new to the NCCARE360 platform. She previously worked as the Healthy Opportunities Program Director with Carolina Complete Health. She oversaw the pilot program which is the nation's first comprehensive program to test and evaluate the impact of providing non-medical interventions related to housing, food, transportation and interpersonal safety and toxic stress to high-needs Medicaid enrollees to improve their overall health.  
She is looking forward to working closely with the NCCARE360 team to build upon what the program has already accomplished and help make it sustainable for the future. This includes increasing the network coverage through a data-driven strategy that identifies pockets of need in our state as well as a comprehensive marketing and community engagement strategy to help spread the word about the platform and its benefits.  
She also has experience working at the University of North Carolina Medical Center where she served as a Readmissions Program Manager from 2018-2021.
She has a bachelor's degree in Public Health from the University of North Carolina at Greensboro, a master's degree in Social Work from the University of North Carolina at Charlotte and a master's degree in Healthcare Administration from the University of North Carolina at Chapel Hill.
Her passion for helping others also extends beyond the office walls. She is an active member of Alpha Kappa Alpha where she serves as a Vice President of the Sigma Tau Omega chapter and oversees the group's community service efforts. She also serves on the Board of Directors for the African American Culture Festival in Raleigh which is an annual celebration of African American culture as expressed through art, music, food and community which draws more than 30,000 people annually.