All Aboard the MOMnibus!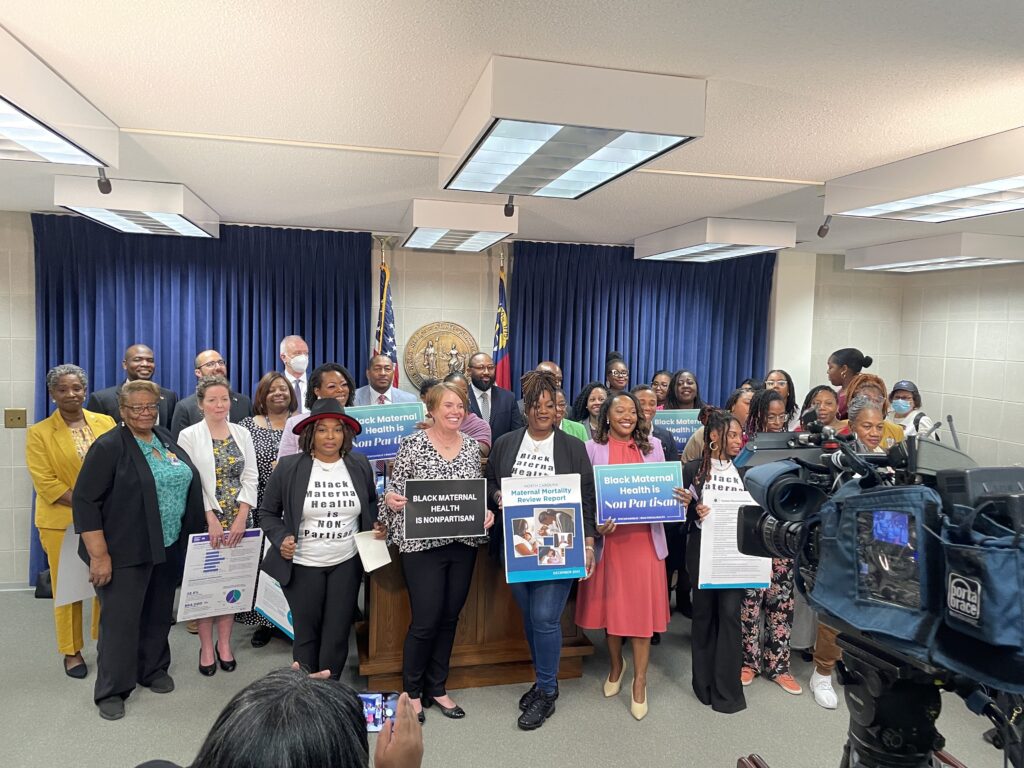 The signs said it all. "Black Maternal Health is Nonpartisan."
This was the message advocates, providers, and parents took to the legislature for Black Maternal Health Day of Action on April 19, 2023.
FHLI President and CEO David Reese and staff members joined advocates, mothers, and providers from across the state to meet with elected officials and discuss the importance of policy action to reduce racial disparities in maternal health across North Carolina.
We were pleased to meet with Representative Julie Von Haefen to discuss this issue in detail before attending her joint press conference with Senator Natasha Marcus. During the press conference they announced the refiling of the MOMnibus Act, which has been filed during three consecutive sessions in the North Carolina General Assembly. This year, the MOMnibus Act is one of a slate of bills that promise to improve outcomes and reduce racial disparities if passed.
In addition, a federal MOMnibus Act was introduced by U.S. Rep. Alma Adams and includes more than a dozen bills designed to address black maternal and infant health. Rep. Adams is one of the original architects of a "MOMnibus" approach to tackling maternal mortality.
If passed, North Carolina's MOMnibus Act would establish an annual $395,500 grant pool for maternal mortality prevention, create an implicit bias training program within the North Carolina Department of Health and Human Services, and appropriate $500,000 every two years to support recruiting, training, and retaining a diverse lactation consultant workforce.
Representative von Haefen heavily cited FHLI's recently released landscape analysis, "Progress and Opportunities: Maternal and Child Health Equity in North Carolina," during the press conference. This report on the state of maternal and child health in North Carolina was released to the public during Black Maternal Health Week and was funded and supported by the HopeStar Foundation and The Duke Endowment.
The recently filed maternal health package in the North Carolina legislature, FHLI's landscape report, and our newly announced Maternal and Child Health Equity Action Network (MCHEAN) all come on the heels of data released by the CDC in the first months of 2023.
The statistics are shocking:
Across the United States, maternal mortality increased 60 percent from 2019 – 2021. This rate is estimated to have continued to rise since 2017, making America the only industrialized nation with rising maternal mortality.
Black women are 2.9 times more likely than white women to die while pregnant or within a year of childbirth.
Black women in North Carolina are 4 times more likely to lose a child before their first birthday compared to white women.
It's like the sign said: black maternal health is nonpartisan. In fact, it should be everyone's issue. The MOMnibus legislation filed at the state and national level as well as the rest of North Carolina's maternal health package are all hopeful signs of change to come.