Pandemic-related Information from
FHLI's Trusted Staff & Partners
The Foundation for Health Leadership & Innovation (FHLI) is committed to providing the most current and accurate information regarding the pandemic and its effects on North Carolina. This page only includes those resources from our expert staff members and trusted partner organizations.
Informed Immigrant Launches Trusted Resources for Immigrant Communities Impacted by COVID-19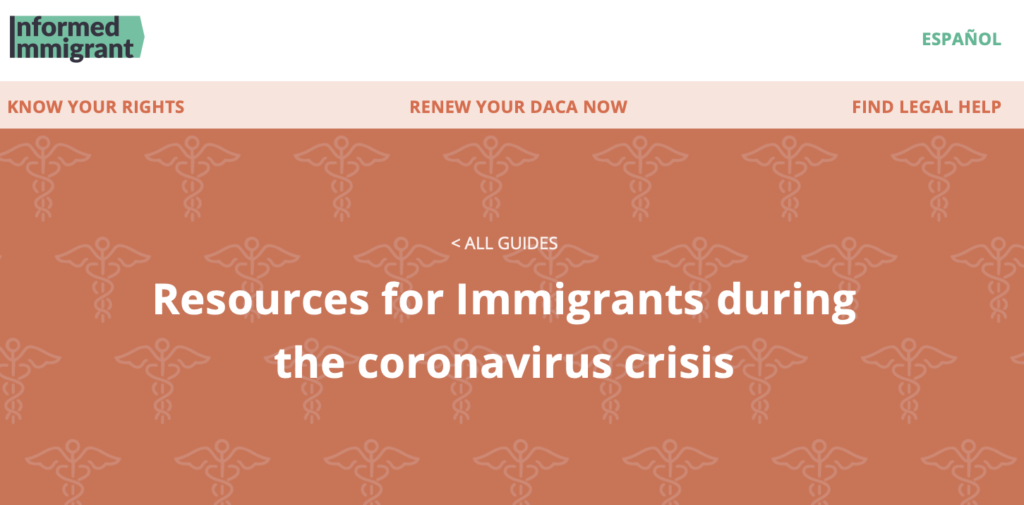 In the wake of the 2016 presidential election, millions of undocumented immigrants faced increased uncertainty and anxiety about their futures in the United States. Immigrant-serving organizations across the country received a sudden spike in demand for help.
Immigrant rights leaders, service providers, lawyers, and technologists from across the country banded together and collected a list of more than 1,000 organizations offering on-the-ground legal support, healthcare services, and more to undocumented families.
InformedImmigrant.com is dedicated to increasing access to resources and knowledge for the undocumented immigrant community across the U.S. The organization and its partners understand that these times are especially hard on immigrant communities dealing with the unique challenges of coronavirus and immigration status, and have developed trusted resources to assist them.
NC Inclusive Disaster Recovery Network Provides Disaster Resources for Underserved Communities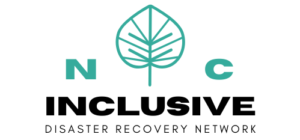 Rural Forward NC's NC Inclusive Disaster Recovery Network has created (and continually updates) resources to assist those organizations supporting underserved communities.  New resources include:
Dec. 3, 2020 - Leadership Letter from Community Providers

Message from Community Care of North Carolina Co-Chief of Medical Officers:
Dear Colleagues – We have all been impacted by COVID-19 and the latest trends in prevalence indicate we may not be past the worst of this pandemic. We believe it is important for North Carolina primary care physicians to take a leadership role in educating the public and encouraging good public health practices. 
Please consider sharing
this letter
with members of your local community and amend it as you see fit and, if possible, to include some personal experiences or anecdotes to show the local impact of the pandemic. While these behaviors may seem like basic common sense, the fact is that many Americans are simply not taking these precautions and this is fueling current infection trends. Possible approaches include:
A letter-to-the-editor of your local newspaper
A blast email to patients or a message through your Patient Portal
Public remarks at local events, e.g., civic club, church event or local charitable organizations to which you belong
Posting the letter on your practice's webpage
Social media post or blog entry
We know that you are very busy and have a lot on your plate right now. But we believe the leadership of independent primary care physicians is more important today than ever, so we ask you to try to find time to spread the word within your local community.
Thanks for considering helping us in this important effort.
Sincerely,
Greg Adams, M.D. and Conrad L. Flick, M.D.
CCNC Co-Chief Medical Officers
Western North Carolina Personal Protective Equipment Supply Chain Update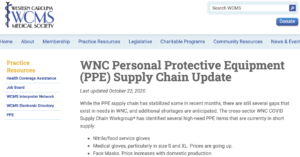 The NC Medical Society and Western Carolina Medical Society have partnered to offer continued updates to the PPE supply chain on a COVID Practice Resources page. Check back regularly for information and assistance on ordering PPE for your practice. 
NCHICA Provides Member & Community Resources to Help Fight COVID
NCHICA has compiled a number of resources
available to its members and the community to support efforts in the fight against #COVID19. Visit the COVID page today.
FHLI Staff Gathers Research on Vaccine Hesitancy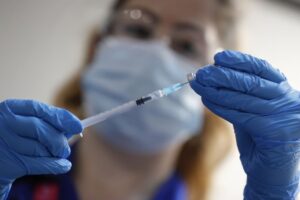 After having conversations with providers and community leaders, FHLI's COE team noticed that several important concepts kept coming up. The team thought that having care providers familiarize themselves with these barriers might help them when presenting evidence about the vaccine and assist with their vaccine education strategies.
Rural Americans Stand Out As One of the Most Hesitant Groups to Get COVID-19 Vaccine – A new analysis of a Kaiser Family Foundation COVID-19 Vaccine Monitor survey data finds that residents of rural America stand out as one of the groups most hesitant to get a COVID-19 vaccine and that their views about the pandemic could pose significant challenges for the nation's mass vaccination effort. About a third (35%) of people living in rural areas say they probably or definitely would not get a COVID-19 vaccine that had been deemed safe and effective and was available for free, compared to about a quarter of suburban (27%) and urban residents (26%) who say the same.
Coronavirus Vaccine Hesitancy in Black and Latinx Communities (PDF download) – This report is a summary of a September 2020 study conducted by the NAACP, UNIDOS US, Langer Research Associations, and the COVID Collaborative of the attitudes and impacts of COVID-19 vaccine hesitancy and resistance in Black and Latinx communities. The summary highlights key areas of focus to increase vaccine uptake.
Belief Perseverance – Also known as conceptual conservatism, is maintaining a belief despite new information that firmly contradicts it. Research articles include:
The Backfire Effect – When people double-down on their beliefs even when these beliefs are shown to be factually incorrect. Research articles include:
CDC Creates Comms Toolkit for Clinicians

The Centers for Disease Control & Prevention has provided a
COVID-19 vaccination communication toolkit
for medical centers, clinics, and clinicians. The toolkit helps "build confidence about COVID-19 vaccination among your healthcare teams and other staff." Take a look at the resources here.
Download the App & Slow COVID!
We can slow the spread of COVID-19 but we need your help. Downloading the SlowCOVIDNC app is an important step you can take to protect yourself, your loved ones and your community. Learn more about exposure notifications: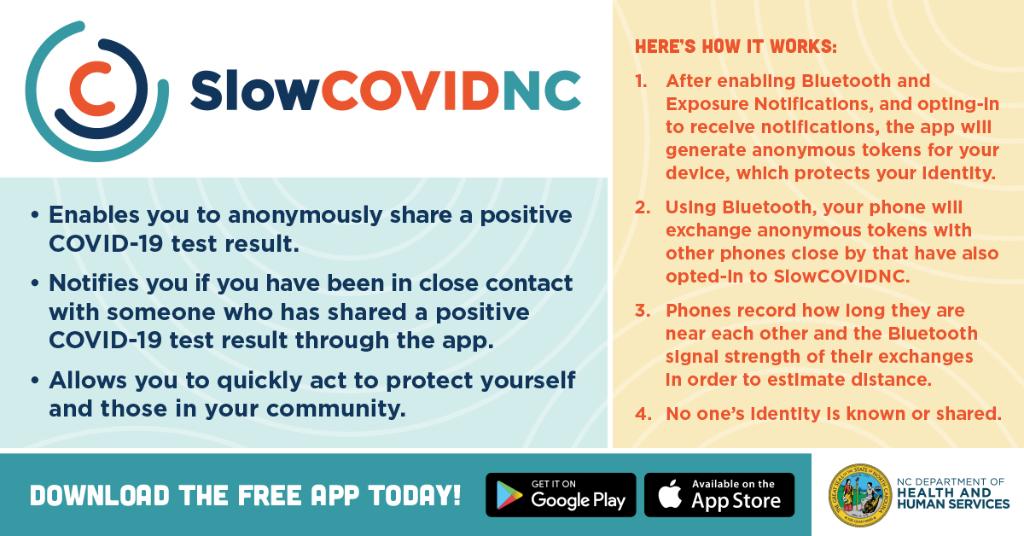 New Tool Can Help Your Nonprofit Take the Lead in Minimizing the Spread of COVID-19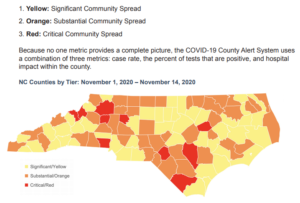 NC DHHS has introduced a new COVID-19 County Alert System to pinpoint counties with the highest levels of viral spread and offer specific recommendations to bring numbers down.
The system uses three colors (red, orange, and yellow) to show the level of community spread in each county and has specific steps that are recommended for individuals and for businesses and community organizations (e.g. nonprofits) for counties in each category.
FHLI strongly encourages every nonprofit to become familiar with this alert system and to take the recommended steps to minimize the spread of COVID-19.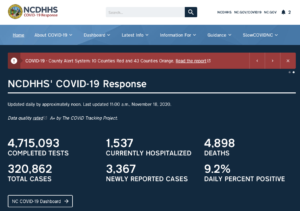 Visit the North Carolina Dept. of Health and Human Services COVID-19 Response Dashboard to check current case counts, test stats, and information regarding PPE ordering. 
Check back regularly for updates to this page.